A true nostalgic ride from days gone by and Six Flags' contribution to the National Register of Historic Places. Presented by Kodak.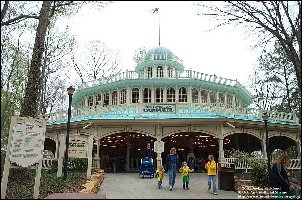 Steel, carousel

TOP SPEED...6 mph

RIDE DURATION...3 minutes 10 seconds

# OF HORSES...30-40

CAPACITY...800-900 passengers per hour

HEIGHT RESTRICTION...None

BRIEF HISTORY...Was first built in 1908 and opened at the RiverView Park in Chicago, Illinios--It took nearly 25,000 working hours to complete the ride--Sits atop "Carousel Hill," which in my opinon is the best scenic area in the park.