SUPERMAN: ULTIMATE FLIGHT

On January 22, Six Flags over Georgia finally announced its new Bolliger & Mabillard flying coaster. Many new information was gathered at the news conference. We learned the new coaster will indeed have the SUPERMAN theme to it. The coaster's name, however, will be the unique and new SUPERMAN: ULTIMATE FLIGHT, which should fit the ride well. Also, we learned the official stats on the ride which you can see below. This will no doubt be an awesome ride and will hopefully use a much needed theme to its advantage.

Here are some quotes from some important Six Flags personnel:

"Known throughout the world for delivering non-stop thrills and entertainment, Six Flags over Georgia exempliefies the Six Flags world-wide brand," commented Gary Story, president of Six Flags, Inc.

"The unveiling of SUPERMAN: ULTIMATE FLIGHT kick's-off the park's 35th season, completing the collection of ride experiences and truly transforming Six Flags over Georgia into the SUPER PARK of the South," said by Gary Story.

John Odum, Six Flags over Georgia's vice president and general manager, says this about the new coaster, "SUPERMAN:ULTIMATE FLIGHT combines the world's best high-tech ride elements with an exclusive high flying twist making it the most unique roller coaster to hit the region."

"SUPERMAN: ULTIMATE FLIGHT'S innovative design system and state-of-the-art technology make it a must ride for every theme park enthusiast," says John Odum.

"Our guests expect the best in thrills and entertainment. Following the 2001 success of two colossal-size rides like Deja Vu and Acrophobia, SUPERMAN: ULTIMATE FLIGHT is the perfect compliment to the park's super-size coaster collection. SUPERMAN: ULTIMATE FLIGHT stamps Six Flags over Georgia's place on the map as the thrill ride capital of the South," noted John Odum.
This is SFoG's description of their new roller coaster:
Soar to new heights on the South's only flying roller coaster SUPERMAN- ULTIMATE FLIGHT. Defy the laws of gavity as you dive head first through high banked curves, spirals, and a never done before pretzel-shaped inverted loop at 60 mph.

These are SUPERMAN'S stats, given out by Six Flags over Georgia:

OPENING DATE...April 6, 2002
LENGTH...2759 feet
HEIGHT...115 feet
DROP...100 feet
RIDE ELEMENTS...1 pretzel-shaped inverted loop, 1 spiral, 1 horseshow, 1 in-line roll
TRAINS...3 trains/4 across
STATIONS...2 stations
RIDE DURATION...Over 3 minutes
TOP SPEED...60+ mph
RIDE FEATURES:
A first ever pretzel-shaped inverted loop where trains climb to the top of the figure and dive in a loop close to the ground highlighting the feeling of flying
A sequence of thrilling curves and dives that includes a horseshoe, highly inclines curve, and high-speed spiral
A 360-degree in-line roll will surprise guests just before entering the station
First of its kind dual loading stations, increasing ride capacity
NOW LET'S SEE HOW B&M'S OTHER FLYING COASTER, AIR, STACKS UP STATISCALLY...
LENGTH..2755 feet
HEIGHT...46.6 mph
G-FORCE...3.5gs
INVERSIONS...2
Although many people have said AIR will definitely be better than SUPERMAN: ULTIMATE FLIGHT, statiscally it is not the better coaster. Alton Towers didn't want this to be scary or heart-attack like ride that only teens and middle aged people would enjoy, but for everyone, and I do consider that but with SUPERMAN: ULTIMATE FLIGHT being longer, higher, faster, and having the world's first pretzel loop, S:UF should become the best flying roller coaster in the world for a long period of time. Whatever the cas scenero is, both will be fantasic roller coasters!
The following pictures are mostley of SUPERMAN: ULTIMATE FLIGHT, and if not, then they deal with the ride. Most S:UF pictures were taken by Bob Armstrong or their respected owners. NOTE: If you move your mouse on the picture (no clicking), a caption about the ride will appear. Use this for the whole site also.
AIR's seats
AIR, Alton Towers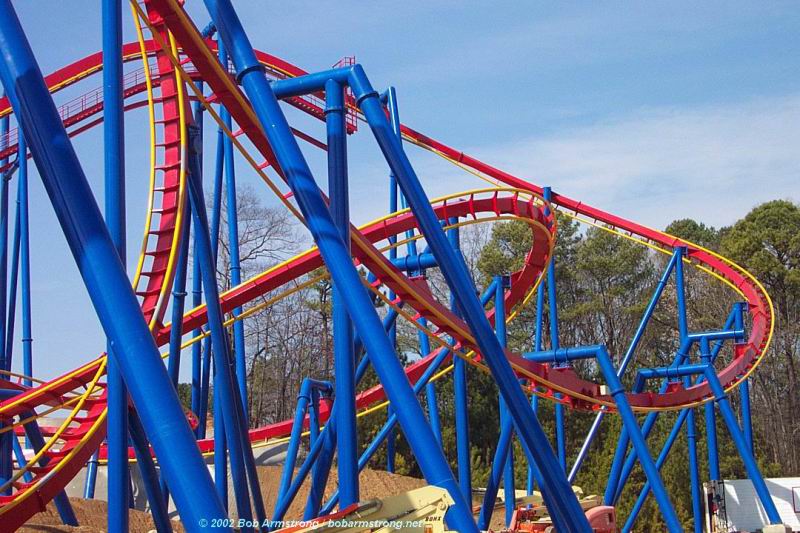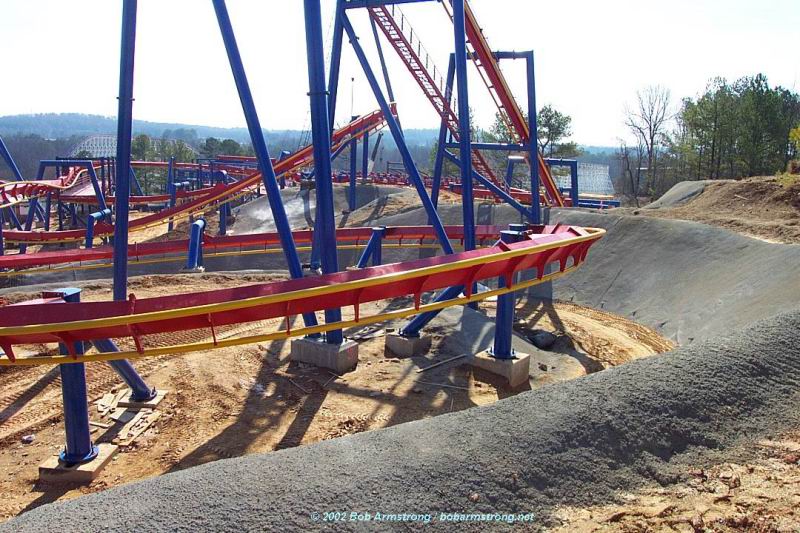 S:UF's Station
Superman: Ultimate Flight