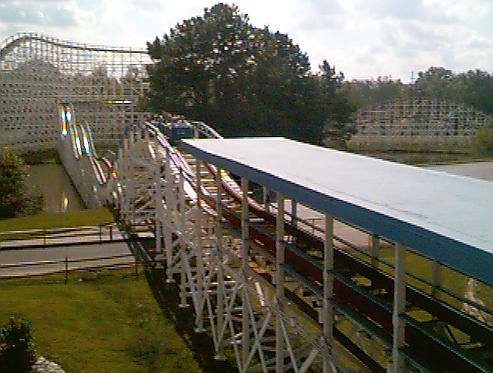 THE OVERVIEW
One of the world's longest and tallest roller coasters as featured in the 1975 Guiness Book of Records is The Great American Scream Machine. This Six Flags over Georgia legend speeds 24-passenger trains through heart throbbing dips and plunges--They don't call it the Scream Machine for nothing.
RIDE DETAILS
| | | | |
| --- | --- | --- | --- |
| Track | Type | Year | Designer/Manufacturer |
| Wood | Out and Back | 1973 | John Allen/PTC |
RIDE STATISTICS

INTRODUCED...April 1973

HEIGHT...105 feet

LENGTH...3,800 feet

MAXIMUM DROP...87 feet
ANGLE OF DESCENT...45 degrees
TOP SPEED...57 mph

INVERSIONS...0

RIDE DURATION...2:00

NUMBER OF TRAINS...2 trains

PASSENGERS PER TRAIN...24 passengers

RIDER CAPACITY...1,200 riders per hour

HEIGHT RESTRICTION...Must be at least 42'' tall

COLORS...Red, white & blue
RESTRAINTS...Two-person seat belt and two-person lap bar
LOCATION...Cotton States
TRAINS DESIGNED BY...Philidelphia Toboggan Company
---------------------------------------------------------------------------------------------------------------------------------------------------------------

RIDE EXPERIENCE
ARRANGEMENT: 2 trains with 24 passengers per train. Trains consist of 14 cars with 2 across single row.
STRUCTURE: White wooden supports with red and blue trims
FEATURES: Built around a lake and the Skycoaster--Outstanding views of the SouthernStar Amphitheatre, Superman: Ultimate Flight, and Ninja--Trains display American flag design
HISTORY/NOTES: Featured in Guiness Book of World Records in 1975 as the tallest and longest wooden roller coaster--Six Flags over Georgia's first wooden coaster, and it's the longest coaster ever at the park

THE GREAT AMERICAN SCREAM MACHINE'S RATING (as of 7.18.02)
LOOK...6
LAYOUT...6
THEME...3
ELEMENTS...8
QUEUE LINE...4
RIDE...8.5
ROUGHNESS FACTOR...Yes
OVERALL...7.5
Until the 2001 season, GASM was the roughest coaster I had ever ridden, which also meant it was one of the worst. But in 2001, the track seemed "newer" and the trains "softer." In 2001, the Scream Machine went from the roughest wooden coaster I have ever ridden to the smoothest. The ride is very fun and is packed with great intensity. And if you brace yourself for the final brakes, then you should greatly enjoy this ride. Theme to the red, white, and blue, this coaster uses nothing to its advantage. Its layout is long, and it circles a lake. The queue line is nothing spectacular, although you have a good look at the coaster when your inside the queue house. So, unless SFoG tampers with GASM, this woodie is my favorite of all the wooden coasters I have ever ridden! 2002 NOTES: The ride is better than ever, with an excellent view of Superman: Ultimate Flight from 1/2 of the ride. It smoother than ever, and the ride is just....awesome!