This page will include news and rumors about Six Flags over Georgia and the theme park industry. NOTE: Rumors should not be taken seriously and most is unfactual gossip.
*...Indicates Rumor
[8/11] DENISE DINN HIRED BY S&S POWER TO RUN NEW WOODEN COASTER DIVISION; COMPANY ALSO EXPECTED TO BUY ARROW DYNAMICS
Denise Dinn, former president of the now unoperational CCI wooden coaster company, has been hired by Utah-based S&S Power to operate their new wooden coaster division. This doesn't come to a surprise, as Dinn said she would like to get back in the business with the possiblity of joining another company. So, expect the new S&S Power woodies to be much like CCI's, which is a very good thing. S&S Power are also expected to buy the stuggling coaster company Arrow Dyanmics, also of Utah. If this were to happen, S&S Power would become the largest coaster company in America and could easily rival European giants Intamin AG, Bolliger & Mabillard, and Vekoma.
[8/10] SIX FLAGS OVER GEORGIA CHATTER
This new "feature" will be done every month, and it will discuss small SFoG new/rumors over the last month. First, Mindbender will be down to one-train operating for the rest of the year, according to park employees. No official word has come out to why the coaster has gone to one-train operation. The newest "SFoG 2003" rumor has come out. The rumor states SFoG will receive a 215-foot high Bolliger & Mabillard speed coaster that would go from Batman: The Ride to Deja Vu. Of course this is just a rumor, but this would definitely be a quality addition to a park that badly needs a long, steel coaster. Finally, SFoG is nearing the end of daily operation, due to the summers nearing end and local schools starting back up.
[8/02] BILLIONAIRE GATES HOLDS NEALRY 9% OF SIX FLAGS INC.
Multibillionaire Bill Gates now holds 8.6% of Six Flags Inc, according to a filing from the Securites and Exchange Commission. Gate holds just over 8 million shares through Cascade Investment LLC. The investment filing did not state when or where the shares were bought. Six Flags shares dropped 16 cents to close at $14.86 on the New York Stock Exchange. Courtesy: Reuters
[7/29] ALBANY PROPOSED TO GET NEW MEMORIAL THEME PARK
A new memorial theme park for the victims of the 1996 Centennial Olympic Park bombing in Atlanta is proposed for Albany, according to Six Flags News. The park is proposed to be 76 acres large, and an hour north of Georgia's other major theme park, Wild Adventures in Valdosta. No word yet on what type of rides it would contain, if any.
[7/24] SFoG FLOODS AFTER HARD RAINS HIT METRO ATLANTA
Strong thunderstorms moved into Metro Atlanta yesterday evening and hit SFoG hard, causing some areas inside the park to have 1-3 feet of water, according to a concerned park patron that visited with there family yesterday evening. The patron (no name/gender) said that park employees, guards, and management appeared to have no concern to the flooding problem, but instead were more interested in making sure everyone went through the right exit to be counted. Police and fire trucks were called by numerous other park patrons, that also were very concerned about there safetey at the park. Also, the patron said they were not happy at all with the way park employees/management handled the situation.
[7/18] WOODEN COASTER MANUFACTURERS, CUSTOM COASTERS INTERNATIONAL, CLOSES OPERATION
Custom Coasters International (CCI), one of the most popular wooden roller coaster manufacturers among enthusiasts, have stopped opeation and closed its doors. The owner, who's company made nearly 40 wooden roller coasters the past seven years, said the closing was for personal reasons. The company has many world-class wooden coaster favorites including Knott Berry's Farm GhostRider, Wild Adventures' Cheetah, and Michigan Adventures's The Raven.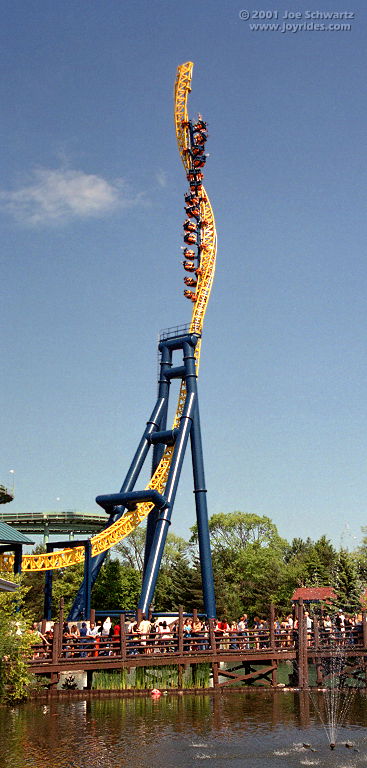 [7/14] SFoG TO GET INTAMIN IMPULSE COASTER FOR 2003?*
According to a rumor on SIX FLAGS NEWS, SFoG executives has asked a few employees to go to Six Flags Great America and undergo training on their Intamin Impulse coaster, V2: Vertical Velocity. This could mean that the park is preparing to build a coaster similar to it or possibly a clone of it. For over a year now, SFoG getting an impulse coaster from Intamin has been rumored. It has been said to go in numerous spots in the park, including the spot that Free Fall is on now. It could certainly fit there, with V2 being only 630 feet long. We, of course, will have to wait and see, but I definitely see this a strong possiblity for SFoG's 2003 season.
V2: Vertical Velocity's Stats:
TYPE: Intamin Impulse Roller Coaster
HEIGHT: 185 feet
TOP SPEED: 65 mph
LENGTH: 630 feet
OPENED: 5/18/2001 at Six Flags Great America in Illinois
[6/20] THEME PARK NEWSLETTER RELEASES FIRST ISSUE SATURDAY
The Theme Park Newsletter will be released for its first issue this Saturday to subscribers. It is operated by Brad Malone, and will include hot theme park and roller coaster news/topics of the month. Malone has many other enthusiasts helping him right the topics, and I might even throw in some SFoG stories myself. I highly recommend you subscribe to the bi-monthy Internet newsletter. To subscribe, contact Mr. Malone at ThemeParkNews@aol.com.
[6/19] RIDERS DANGLE ON ACROPHOBIA FOR OVER AN HOUR; OTHER PARK NEWS
Due to constant power outages at SFoG, 30 Acrophobia riders yesterday were left dangling 200 feet in the air for 1 hour and 30 minutes. Fortuantley, safety mechanisms on the ride operated properly and the riders were held in a stable postition until the ride could be manually lowered. According to many patrons that left the park, they were more mad, than they were scared of the constant power failures at the park, which caused delays on most big rides, though, Acrophobia's was indeed the longest. The park is investigating to why the outages occured. In other park news, Deja Vu is getting a new floor above the station, so if the train valleys it will be easier to get the riders off and the ride working. The floor is also being built on the two other Deja Vu's. The Georgia Cyclone is having construction being done to its queue, with the park installing a new Lo-Q queue line near the regular entrance.
[6/14] SIX FLAGS MAGIC MOUNTAIN CLOSES TROUBLED 4D RIDE, X FOR TIME BEING
Six Flags Magic Mountain, about 30 miles from Los Angeles, California, temporairily closed its new prototype ride from Arrow Dynamics, X for the time being. The park had no comment on how long the ride would be "Standing, But Not Operating."
X was supposed to be the prototype ride that would put Six Flags Inc. and SFMM over the edge as the best park in the world with the best ride in the world. It was also supposed to bring back struggling Arrow Dynamics back to the top of the roller coaster industry. Well, the plan backfired on both companies and put Arrow in a worst spot than it was already in. The ride was supposed to open in Summer 2001, but didn't officialy take riders until Christmas Eve 2001. Since then it has been tearing itself apart slowly until the ride was non-operable. The coaster received heavy downtime this spring due to the fact in-house engineers attempted make repairs and enhancements themselves because Arrow was is in no place financially to help out due thanks to the withheld payment on the ride and a $5.8 million lawsuit because of delays in the coaster's opening.
It seems to only people that can indeed fix the ride is Arrow Dynamics, and with that being the result SFMM declared X "SBNO" for the time being and all advertising regarding the $15 million "garden ornament" has been stored away until the ride can be fixed. SFMM officials have told guests visiting the park not to expect to ride X.
SFMM has not made any official announcement as of yet, but be expecting one before the month's end. The future of X is yet to be decided, but lets hope Six Flags and Arrow Dynamics can come to an agreement to get this revolutionary ride working again and Arrow back on its feet. Until any announcement, don't expect to ride X anytime soon. Courtesy: CoasterForce, Eric Sakowski
[6/12] SIX FLAGS GREAT AMERICA INTERESTED IN B&M "SUPERMAN" FLYING COASTER*
Six Flags Great America, near Chicago, Illinois, is rumored to be interested in installing a B&M "Superman-themed" flying coaster for the 2003 season. There is also speculation that the coaster could be a clone of SFoG's new flying coaster, Superman: Ultimate Flight. This could be true, seeing how Six Flags Inc. is known to clone many of its new prototype rides such as Batman: The Ride and Deja Vu. Some land clearing is already taking place inside of the park, although if it is land clearing for a new ride is yet to be determined. Also, if SFGAm does indeed build a B&M flying coaster, the park will have four B&M roller coasters, the most of any other park in the world. Below is a map of the land area where the land is being cleared at SFGAm.
BLUE-Area where coaster could be built
RED-Recently removed land
YELLOW-Land that could be removed
[6/6] BANKRUPTCY WOES: ARROW DYNAMICS & VISIONLAND IN MIDDLE OF TOUGH BANKRUPTCY CASES
Roller coaster manufacturer, Arrow Dynamics, has been in the midst of a tough Chapter 11 bankruptcy case since December '01. It hasn't gotten any better since then. The majority shareholder in Arrow has offered to buy the remaining interest for $384,000. Hong Kong businessman James T. King claims nearly 60 percent ownership interest worth $1.8 million in the Clearfield-based roller coaster manufacturer. He has joined with Florida developer Conrad Wagner in a bid for Arrow Dynamics. However Salt Lake attorney Steven McCardell representing unsecured creditors owed $3.8 million, said, "Right now it looks like the bid is inadequate." The company filed for Chapter 11 in December 2001, after it lost millions after they midjudged the cost of building their new 4D coaster, X, for Six Flags Magic Mountain in southern California. In a separate bid, Oklahoma-based Six Flags Inc. has offered to buy all Arrow Dynamics assets related to X for $10,000 and the promise to discharge all of its claims against the Salt Lake company, in access of $5.8 million. "They're claiming they have a co-ownership interest (in X coaster assets), but that's ridiculous," Arrow Dynamics president Fred Bolingbroke said. Arrow, over the past weeks have received many bids, but the King-Wagner bid is the highest in money. Meanwhile, Alabama theme park Visionland, filed for Chapter 9 bankruptcy Tuesday. The park is in extensive debt, with the park owing $100,000 million. The park, which has two coasters including the wooden coaster Rampage, can stay open through the summer and will avoid paying unsecured creditors and bondholders. Chapter 9, which provides relief for publicy funded events, protects all of the park's assets, suspends lawsuits Visionland faces and lets it operate with little court oversight. Courtesy: Coasterbuzz, Stanford Examiner
[6/5] SFoG TO HAVE 14 COASTERS BY END OF 2005 ?*
According to a rumor that was submitted to Coasternet yesterday, SFoG is planning to becoming the east coast's largest theme park, dethroning Parmount's Kings Dominion. Here is the full rumor: 'Six Flags over Georgia is working to become the East Coast's largest park, taking the honor from PKD. Next year will bring a hypercoaster and a kiddie coaster, bringing the coaster count up to 11. The following year will see a family coaster and a wild mouse, giving them 13 coasters and then finally, a 4D will arrive in 2005.' I don't think this is a true rumor, but I don't believe it to be complety false either. There has been many rumors saying SFoG will get a hyper-coaster next year, and the possiblity of an Arrow 4D coming to the park in the next few years. We will have to wait and see...!
[5/27] SFoG WORKER KILLED AT BATMAN; BATMAN: THE RIDE CLOSED
SFoG endured its first tragedy of the 2002 season. A 58-year-old seasonal employee, who was in his first season as an SFoG employee, was struck by a teenage girl's leg on Batman: The Ride. The accident happened near 5:00pm yesterday afternoon. The man was in a restricted area beneath the inverted coaster. He was then struck by the leg of a 14-year-old girl seated in the front car of the coaster. The man, whose name was not released, was pronounced dead at Grady Memorial Hospital in Atlanta. The girl suffered a minor leg injury and was taken to Wellstar Cobb Hospital. A shoe lost by the girl hit a 21-year-old woman sitting behind her, causing minor injuries that did not require any hospitalization. Lisa Bigazzi-Tilt, the park spokeswoman, said officials did not know why the worker was in a restricted area. "All no-access areas are clearly marked and employees are cautioned not to enter them at any time," she said. John Odum said the man was recently promoted to forman and was responsible for keeping the grounds clean. "He would not have had any reason to be in that area," Odum said. Odum, who is VP and GM of SFoG, said Batman: The Ride will remain closed until state and OSHA workers can investigate the scene. This causes speculation that congressmen, who have been wanting to reduce "dangerous forces" on coasters, could use this accident to their advantage, saying the dangerous forces that B: TR could bring killed the man.
[5/14] SFoG SEASON PASS DAY: NOVEMBER 3RD.
SFoG's first Season Pass Day will be held November 3rd, one week after the park closes for the 2002 season. If you have a Six Flags season pass, this would be a good day to attend, seeing that only season pass holders can attend and some season pass holders (general public) probably don't want to go in the cold November. I will no doubt be there, and if you have a season pass I recommend you going as well. NOTE: You will be notified by a postcard if you have a Six Flags season pass, but note, if you still have the green paper and not the actual card, you will not receive one until you do.
[4/28] SFoG RUMORED TO GET HYPER-COASTER IN 2003*
Some inside sources claim that SFoG management has been in works with a major coaster company to design a hyper-coaster for the park in 2003. The companies appear to be Intamin, B&M, or Vekoma. B&M and Vekoma seem unlikely since B&M just completed Superman: Ultimate Flight for SFoG, and SFoG management would probably not go with Vekoma because of the numerous problems with Deja Vu. Intamin, who is yet to built a roller coaster at SFoG, would probably be a strong candidate. There has also been rumor that Intamin would make one of its impulse coasters, where Free Fall is. It is only the beginning of the 2002 season, but the 2003 and beyond rumor season has just started!
[4/7] S:UF DESIGNERS SURPRISED BY FORCE ON PRETZEL LOOP
Walter Bolliger and Claude Mabillard, designers of SFoG's newest coaster, Superman: Ultimate Flight said they were surprised by the extreme G-Force felt on they're newest element, the pretzel loop. The G-Force near the front and middle of the train is 3.5 Gs, but in the back seats, the G-Force rises to 4. "We wanted to create that flying experience," Mabillard said. "But the curve itself added something we didn't anticipate" -- a strong forceful feeling. The renowed Swiss firm had lately been making coasters that were very smooth, yet not intense and quite boring to some enthusiasts and riders. With Superman: Ultimate Flight and some of they're new speed coasters opening soon, that opinion could change. Either way, they make great coasters, and most riders are raving about this new flying coaster and its pretzel loop.
[4/6] MY FIRST TRIP REPORT FROM SFoG--2002
Well, I got my fame and glory to day, finally traveling to SFoG for my first of many trips to SFoG this season. I was one of the first one hundred General Public riders on the excellent S:UF, and although numerous delays and a 2 hour and 20 minute-wait, I finally rode the exciting Deja Vu. Go to the new Trip Reports page to read my long and exciting trip to SFoG!
[4/5] S:UF UPDATE
This is old news probably to most of you, but here goes. Yesterday, of course, was Superman: Ultimate Flight's Media Day. In attendence, was 600+ coaster ride Paul Ruben, Claude Mabillard, and John Odum. Mabillard is co-designer of Superman: Ultimate Flight, and Odum is the General Manager and Vice President of SFoG. Ruben, who has ridden over 600 roller coasters, said S: UF was magnificent and a one-of-a-kind experience. Obviously, he liked it. As did, the hundred of other people that got the chance to ride the ride numerous times. According to many enthusiasts, the pretzel loop is the best element ever, and pulls many Gs, especially near the back seat! Also, SFoG supposedly scrapped the tunnel that was going on S:UF, but it turned out they did in fact put one in, but only the size of half of one train. This already famous ride is set to open to the public April 6, 2002! I plan to be in attendence and will give you my review when I return!
[4/2] TIME WARNER STILL LOSERS IN SFoG CASE
The Georgia Court of Appeals has again upheld a massive punitive damages verdict against the former management of Six Flags Over Georgia. Ten judges on the 12-member court unanimously upheld the $257 million award issued against Time Warner Entertainment Co. Two of the court's members had recused themselves from the case, which was appealed by AOL Time Warner Inc. Read more on this article at ajc.com. Article by Atlanta-Journal Constitution.
[3/25] S:UF/SITE UPDATE
Thanks to Robert Ulrich and An Unofficial Guide To SFoG, we have new pics of the almost ready S:UF, and some of the surrounding area. Go to the New For 2002, page for more info and the pics. Also, due to your continuing support, the SFoG Info Center keeps growing. Yesterday, I added the Archives page, which has news and rumors from the latter half of the 2001 season. We would really appreciate more feedback, so email us or go to the Contact page and fill out the forms on the site. Thanks so much!
[3/23] SFoG OPENS FOR 2002 SEASON!
SFoG finally opened its gates yesterday, opening for the first time in 5 months! Yesterday marked the 35th time the park has at a 'season opening!' Though there were minimal people at the park, lines were long due to many delays and malfunctions of the popular rides such as The Georgia Cyclone, Scream Machine, Dahlonega Mine Train, and Deja Vu. The worse malfunction, though, was Deja Vu, who valleyed late this afternoon. This is not a good sign to this popular, but dismal coaster. Stay tuned for more updates on the 'Super Park of the South!'
[3/22] B&M TO MAKE FIRST WOODEN COASTER?*
My source has unconfirmed information that renowned coaster designers, Bolliger & Mabillard has plans to design a wooden roller coaster at an unidentified park. If B&M did design a wooden roller coaster, we do not know who would supply the track and supports. Giovanola has supplied B&M over the years with their steel track. Check weekly for more information on this story.
[3/20] SFoG TO OPEN S:UF APRIL 6th
According to The Unofficial Guide To Six Flags Over Georgia, SFoG has confirmed it will open its new B&M flying coaster, Superman: Ultimate Flight, to the public. This coaster will open very quickly compared to SFoG's disasterous nightmare with their new coaster last year, Deja Vu. Deja Vu has been rumored to still have problems. Superman: Ultimate Flight's opening day could be pushed back, though, due to sensor problems on B&M's other flying coaster, AIR. It is doubtful, though, the opening date will be pushed back. April 6th will be a joyous and memorable day!
[3/13] S:UF/AIR UPDATE
Six Flags over Georgia has started to send invitations to certain individuals inviting them to Superman: Ultimate Flight's Media Day. The speculated Media Day is FRIDAY, APRIL 5, 2002. Also, I updated the NEW FOR 2002 page with a pic of AIR dual station, and I broke the two flying coasters statiscally. Be patient, more SFoG reviews are coming, but I think Im going to wait till the park opens so I get a good, refreshed memory of what the rides feel like. It has been 5 months since we rode these rides! Also, for March 14, check out the NEW FOR 2002 page for an up-close view of AIR's trains, which should identical to one's on S:UF, except for a different color scheme.
[3/4] NO TUNNEL FOR S:UF?*
There had been speculation for awhile that Superman: Ultimate Flight would have a short, but entertaining tunnel before the barrel roll. Well, my source has unconfirmed data that the tunnel has been scraped. Also, my source has said this B&M flying coaster will not have a heavy theme like many had hoped and planned. If all this is true, S:UF could suffer slightly in guests ratings. In other news, SFoG had been working weekly with Vekoma to try and "fix" Deja Vu. The coaster had had brake problems during its short opening stint late last season.
[3/3] S:UF/SFoG UPDATE
Superman: Ultimate Flight has received its trains, and will begin testing this Monday. SFoG still plans to open the ride April 6, but people still hope it will be Opening Day. Maybe SFoG will have a "soft" opening on S:UF, like they did with Deja Vu. Also, SixFlags.com has posted SFoG's shows listing for 2002. Go check them out!
[2/26] S: UF RESTRAINTS
According to Coaster Force, the newest picture on the NEW FOR 2002 page is supposedly similar to the B&M prone restraint that will be used on AIR and S: UF. The restraints, according to Coaster Force, will be very similar to Arrow's 4D coaster, X, though the way you sit and load will be different.
X Restraints Should Be Similar To S:UF's
Arrow's 4D Coaster 'X' at SFMM
[2/14] S:UF AND OFFSEASON UPDATE

B&M quickly finished SFoG's new flying coaster, Superman: Ultimate Flight, yesterday, installing the final piece of track. Of course, the ride isn't completely done, with still theming, test runs, and final preparations still neede to be done. Trains should arrive in the next week. Also, according to many sources, the new coaster should be ready by the beginning of Spring Break.

In other SFoG news, the park is planning on putting "virtual lockers" throughout the park at popular and big rides. There will be a total of 1, 500 lcokers, much like the ones at Islands of Adventure in Orlando. Guest will be able to rent them for $7 each via a wristband. With the wristband, you will have access to one locker per ride. Also, many rides will be able to use the Lo-Q system for the first time, this time with improved specs. Finally, SFoG Info Center has learned that SFoG will open all sections of the park at one time. In the past, Gotham City and Cotton States would open at 11:00 AM besides 10:00 AM, which is when the park opens.




[1/22] OFFICIAL ANNOUNCEMENT!!!

Six Flags over Georgia finally announced their new Bolliger & Mabillard flying coaster. John Odum, Six Flags over Georgia's VP and GM announced the ride's name as being SUPERMAN- ULTIMATE FLIGHT. Other important facts were realeased, and you can find them at the NEW FOR 2002 page.