FASTEST ROLLER COASTERS AT SIX FLAGS OVER GEORGIA (mph)
65--Deja Vu
60--Superman: Ultimate Flight
57--The Great American Scream Machine
54--The Georgia Scorcher
52--Ninja
50--Batman: The Ride
50--Mindbender
50--The Georgia Cyclone
30--Wile E. Coyote Canyon Blaster
29--Dahlonega Mine Train
TALLEST ROLLER COASTERS AT SIX FLAGS OVER GEORGIA (feet)
196--Deja Vu
122--Ninja
115--Superman: Ultimate Flight
107--The Georgia Scorcher
105--Batman: The Ride
105--The Great American Scream Machine
97---Mindbender
95---The Georgia Cyclone
37---Dahlonega Mine Train
??---Wile E. Coyote Canyon Blaster
LONGEST DROPS ON ROLLER COASTERS AT SIX FLAGS OVER GEORGIA (feet)
177--Deja Vu
101--Ninja
101--The Georgia Scorcher
100--Superman: Ultimate Flight
89---The Great American Scream Machine
87---Batman: The Ride
80---Mindbender
78---The Georgia Cyclone
45---Dahlonega Mine Train
??---Wile E. Coyote Canyon Blaster
LONGEST ROLLER COASTERS AT SIX FLAGS OVER GEORGIA (feet)
3800--The Great American Scream Machine
3253--Mindbender
3000--The Georgia Scorcher
2970--The Georgia Cyclone
2759--Superman: Ultimate Flight
2742--Ninja
2693--Batman: The Ride
2323--Dahlonega Mine Train
1203--Deja Vu
900---Wile E. Coyote Canyon Blaster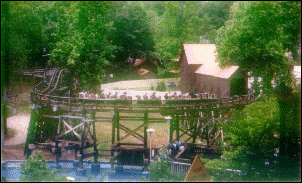 RIDE TIME OF ROLLER COASTERS AT SIX FLAGS OVER GEORGIA (minutes : seconds)
2:52--Dahlonega Mine Train
2:33--Mindbender
2:00--Batman: The Ride
2:00--Superman: Ultimate Flight
2:00--The Great American Scream Machine
1:48--The Georgia Cyclone
1:26--Deja Vu
1:20--Ninja
?:??--Wile E. Coyote Canyon Blaster
MOST INVERSIONS OF ROLLER COASTERS AT SIX FLAGS OVER GEORGIA
5--Batman: The Ride
5--Ninja
2--Deja Vu
2--Mindbender
2--Superman: Ultimate Flight
2--The Georgia Scorcher
0--Dahlonega Mine Train
0--The Georgia Cyclone
0--The Great American Scream Machine
0--Wile E. Coyote Canyon Blaster
TOP ROLLER COASTERS AT SIX FLAGS OVER GEORGIA (April 2004)
1) Superman: Ultimate Flight
2) Deja Vu
3) Batman: The Ride
4) The Great American Scream Machine
5) Mindbender
6) The Georgia Cyclone
7) The Georgia Scorcher
8) Ninja
9) Dahlonega Mine Train
TOP FIVE THRILL RIDES AT SIX FLAGS OVER GEORGIA (April 2004)
1) Acrophobia
2) Wheelie
3) Splash Water Falls
4) Thunder River
5) The Monster Plantation
My Top 10 Roller Coasters
1) Top Thrill Dragster, Cedar Point (Intamin AG)
This ride is a one-of-a-kind Intamin stratacoaster that is unlike anything you have ever ridden in the world!! The blast of 120 mph is so exciting, you may run out of breath just thinking about it before you get on. The 420 foot monster tower you go up is climatic and beautiful, as you glide on top of all the other mega rides at Cedar Point. It's only downfall is it's length: 17 seconds. Still this ride is one for the ages, and is no doubt my favorite ride ever.
2) Millennium Force, Cedar Point (Intamin AG)
The first gigacoaster in the world is truly a wonder, and there is no doubt whatsoever why this is rated the best coaster in the world. It doesn't top my list, but I can see how it tops most everyone else's. This ride, a true roller coaster, is blazing and there was never a time I didn't have a smile during the ride. You climb over 300 feet in the air to be dropped on what I think is the most exciting and nerve-racking drop on any roller coaster. You speed through hills, tunnels, curves, and helixes at 93 mph and at that speed…I never wanted the ride to end!
3) The Incredible Hulk Coaster, Islands of Adventure (B&M)
Up until my Cedar Point trip, this ride was my favorite. Although my trip up to CP dethroned, this ride is still one of the tops and its uniqueness is what brings it its awesomeness. The shooting out like a canon out of the lift tunnel straight into a barrel roll is one of the best moments I have ever had on a coaster, and the immediate inversions that follow over water and paths full of watching people is awesome. B&M truly made a masterpiece with this ride.
4) Superman: Ultimate Flight, Six Flags over Georgia (B&M)
The first "flying" coaster in the States resides right here at the home park. Superman is truly a work of genius and the ride put SFoG at and upper echelon of Six Flags parks. The pretzel loop, the newest inversion, is no doubt my most favorite inversion ever and what brings Superman its money. The pretzel loop simply rocks!! The ride is pretty ho-hum from there, but as long as that pretzel loop is on the ride, Superman will be one of my favorites for a long time.
5) Déjà Vu, Six Flags over Georgia (Vekoma)
Ahh, yes. The infamous Déjà Vu. Better known as Delayja Vu. Still, when this ride is operating, it is one of the most intense rides out there, and no doubt the most intense ride for me at SFoG.
6) Ice Dragon, Islands of Adventure (B&M)
A lot of people say the best coaster of Dueling Dragons is the Fire Dragon. I disagree. The Ice Dragon, though slower, is one of my favorite inverted coasters and I thought packed a smoother punch than its rival, the Fire Dragon. Dueling Dragons has two intangibles that no other two coasters have: a state-of-the art queue line that is a ride in itself, and the inverted tangles of the coasters. They look like red and blue spaghetti!
7) Kumba, Busch Gardens Tampa Bay (B&M)
It's been awhile since I rode this one, so my memories are a bit faint, but I can still tell you this is one of the best sit-down coasters in the world! One of B&M's first sit-down coasters, this ride packs a huge lift hill, rapid speed, and 7 intense inversions that make this ride awesome!
8) Montu, Busch Gardens Tampa Bay (B&M)
Like Kumba, my memory of this ride is faint, but still good enough to remember it is one of my top rides. This ride is very exciting, and it is one of the tallest and fastest of its kind. This ride impresses me much more than it's comparision, Raptor at CP.
9) Wicked Twister, Cedar Point (Intamin AG)
This was the first Intamin coaster I had ever ridden, and I was pleasantly surprised. This isn't your typical coaster as your blasted out of the station at 70 mph up a twisting tower, just to do it again backwards on another twisting hill behind the station. What makes this ride awesome I that is rarely as a line, is right next to the massive Lake Erie, and it shoots you out multiple times!!! No doubt one of my favorites!!!
10) The Georgia Cyclone, Six Flags over Georgia (Curtis D. Summers)
Number 10 was a hard choice, but in the end, I couldn't leave off my favorite woodie, The hometown Georgia Cyclone. This ride is truly a classic and though its rough, it packs a punch that is very entertaining.
HONORABLE MENTION:
Mindbender and The Great American Scream Machine, Six Flags over Georgia; Blazing Fury, Dollywood; The Beast, Paramount's King's Island